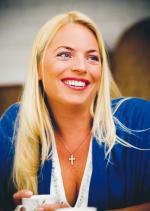 photo Ola åkerborn BLT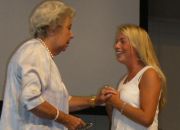 Christa Ludwig & Michaela von Koch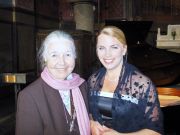 Alice Babs & Michaela von Koch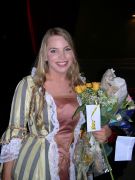 photo Katrin Dolk
Michaela von Koch (born 1978), sang mezzosoprano up to 2006.
She has been singing soprano repertoire since 2007.
Michaela studied at the Stockholm University College of Opera.
Previously, Michaela attended Operastudio 67 and Kulturama's
classical singing programme.

In school Michaela attended the Music Esthetical programme at
Gångsätra skola in Lidingö. She also spent a couple of years in Linköping's
Music Classes.

Anna Högström is Michaela's singing teacher and vocal coach
since more than 10 years. Michaela has also studied classical singing
and interpretation with the former General Director of the Royal
Swedish Opera Lars af Malmborg och opera singer Gunilla af Malmborg.

Roles at Stockholm University College of Opera include

La Dori in La Dori by Cesti, The Secretary in The Consul by Menotti, Brita in

Kronbruden by Rangström, Dorabella in Mozart's Cosí fan tutte, Carmen in

Carmen by Bizet, Charlotte in Werther by Massenet, Tintomara in Werle's

Tintomara and Agathe in Weber's Der Freischütz.

Michaela has been engaged to sing the role Dido in Purcell's opera

Dido and Aeneas, which will be performed at Confidencen (the Ulriksdal

Palace Theatre) in April 2008.

Roles at Operastudio 67 include

Hansel in Hansel and Gretchen by Humperdinck, Octavian in

Der Rosenkavalier by Strauss, Musette in La Bohéme by Leoncavallo

and Rosina in Rossini's the Barber at Seville.

Miscellaneous

Over the last few years Michaela has been engaged as soloist at various

occasions including concerts at the Academy of Music Nybrokajen 11 in

Stockholm, Universität für Musik und Darstellende Kunst in Vienna and Lyckå Kammarmusikfestival in Karlskrona.

Michaela has particpated in masterclasses with among others Christa Ludwig,

Loa Falkman, Torbjörn Lillieqvist, Craig Ruthenberg and Dan Marek.

In 2006 Michaela was appointed as Sweden's representative at Eurovox in

Vienna. The engagement included masterclasses, a concert and the

recording of a CD.

Michaela received scholarships from the Royal Academy of Music in

2006 and 2007. She also received Lions' in Saltsjöbaden Alice Babs Award

2007, the Swedish Wagner Society's Bayreuth Award for 2008 and the

Swedish Order of Freemasons' Award for Young Singers in 2007.

Michaela was soloist and Lucia at the Swedish-American Chamber of

Commerce in New York's annual Lucia Trade Award dinner and Christmas

Luncheon at the Waldorf Astoria in New York in 2001 - 2005.

Michaela made her first appearance on the opera stage at the age

of 11 in the role Emma at Folkoperan in Georg Riedel's opera Barfotaliv.